Microsoft is changing its product life cycle for the Long Term Servicing Channel (LTSC) for Office and Windows. Some will still know the LTSC version as LTSB. Previously, this Windows 10 version, which was not intended for office environments, had a life cycle of 10 years. Microsoft Office LTSC, also known as Microsoft Office 2016 and Microsoft Office 2019) also had 10 years at the beginning, but this has already been reduced to 7 years with MS Office 2019
Previous versions and life cycle
| | | | |
| --- | --- | --- | --- |
| Released products | Start date for life cycle / release date* | End date for basic support | End date for extended support |
| Windows 10 Enterprise 2015 LTSB | 29.07.2015 | 13.10.2020 | 14.10.2025 |
| Windows 10 Enterprise 2016 LTSB | 02.08.2016 | 12.10.2021 | 13.10.2026 |
| Windows 10 Enterprise 2019 LTSC | 13.11.2018 | 09.01.2024 | 09.01.2029 |
| Office 2010 (with SP 2) | 15.07.2010 | 13.10.2015 | 13.10.2020 |
| Office 2013 (with SP 1) | 09.01.2013 | 10.04.2018 | 11.04.2023 |
| Office 2016 | 22.09.2015 | 13.10.2020 | 14.10.2025 |
| Office 2019 | 24.09.2018 | 10.10.2023 | 14.10.2025 |
Overview of the Support Life-Cycle of Windows 10 LTSC and Office LTSC
Windows 10 LTSC
The comparison of the life cycle of Windows 10 Enterprise and Windows 10 LTB/LTSC shows even more clearly why in many companies LTSC was wrongly seen as the solution for the effort and rethinking of the Windows as a Service (WaaS) process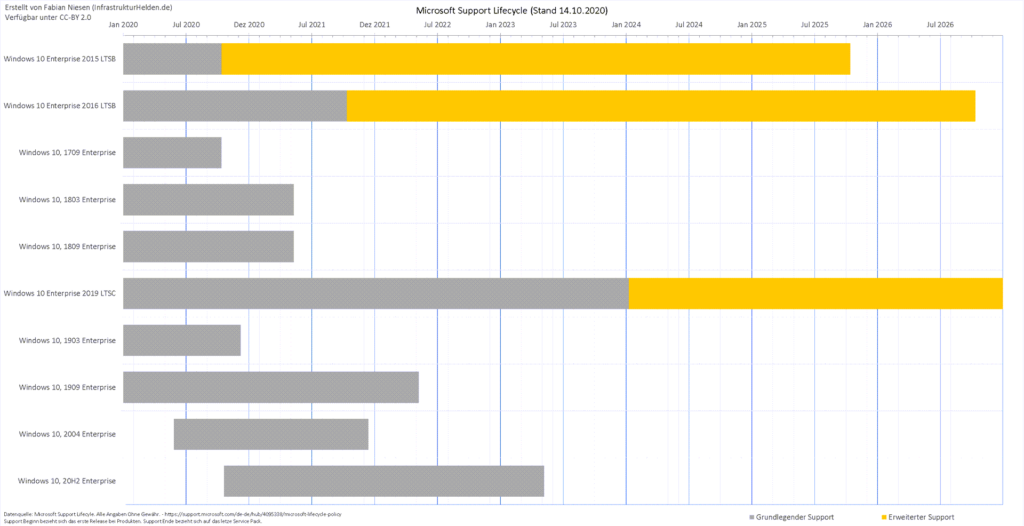 For more on why LTSC is unsuitable for most purposes, see the article "Choosing the Right Windows 10 Edition".
What will change with Windows 10 LTSC 2021?
Windows LTSC 2021 will be released in the second half of 2021. What's new is that this time the lifecycle will only be 5 years, or 60 months. This is twice as long as the current 30 months of the H2 versions of Windows 10 Enterprise, but only half as long as the previous (Windows 10 LTSC 2019) version. This has a total of 123 months of support (Basic and Extended Support).
This will perhaps be a reason for some companies to switch to the Enterprise edition after all, except for special cases.
Possible special cases for which the LTSC might still be the better choice:
Control and laboratory systems with appropriate hardware
Control and laboratory systems with appropriate software
Older industrial systems without regular driver updates
Systems with very high stability requirements
Environments with special requirements for validated environments
Microsoft Office 2021 LTSC
As with Windows 10 LTSC 2021, the life cycle of Office 2021 will only be 5 years. As before, this edition does not entitle the user to an update to a subsequent release.
In terms of functionality, not all features that are included in Microsoft 365 Apps for Enterprises or Microsoft 365 Apps for Business will also be included in Microsoft Office 2021. Another change is that Skype 4 Business will no longer be included, but will have to be downloaded additionally. Instead, the Teams client will be included. However, this will still require a cloud subscription with usage rights in order to be used.
Microsoft has also announced a 10% price increase for the new Office LTSC. Here you can also see that Microsoft sees the subscription model of Office as the primary one. Even with Microsoft Office, the new LTSC is intended more for special cases than for the normal office workplace.
Questions and answers
Where can I find more about the changes for Windows 10 LTSC 2021?
When will Windows 10 LTSC 2021 be released?
The planned release date is the second half of 2021.
Does the change also affect Windows 10 IoT Enterprise LTSC?
No, Windows 10 IoT Enterprise LTSC 2021 will stay with the 10 year support lifecycle.
Why is the product lifecycle being adjusted?
According to Microsoft, the LTSC was often used on systems that do not require 10 years of support. Another reason given is that they want to normalise the lifecycle with the Office LTSC. This suggests that MS Office 2021 may also be supported on Windows 10 LTSC.
Will the product life cycle also change for the already released LTSC versions?
No, Microsoft does not shorten life cycles. At most, they will be shortened, as because of Corona (Read: Changes to the LifeCycle of Microsoft Products due to Corona).
Where can I find more about the changes and innovations of Office 2021?
Will Microsoft Office also be released for Mac in 2021?
Answers: Yes Microsoft has announced that MS Office 2021 will be released for Mac and Windows. This concerns the version for companies and consumers.
Will there still be OneNote in Office 2021?
The OneNote app will be included. It is not yet known to what extent the range of functions will differ from the OneNote app for Windows and whether all the functions from the client programme will be included.
Where can I download the diagrams?
The life cycle diagrams are provided by InfrastrukturHelden.de (Fabian Niesen) under CC-BY-ND 4.0. They may be used without editing in commercial documents and presentations provided that "InfrastrukturHelden.de (Fabian Niesen)" is credited. The current versions can be found in the GitHub repository "InfrastrukturHelden-LifeCycle diagrams".
Notes on license topics
I'm not a licensing expert! Also, the changes are so fast moving that it would hardly be possible to update the articles. Therefore, always ask your licensing consultant about licensing topics. All information in this article is without guarantee.
---
Note to this article
This article was automatically translated from German from our German partner blog InfrastrukturHelden.de.