Microsoft is once again changing something in the Office 365 product portfolio. But this time, in my opinion, for the better. There are also new products for private persons, more about that later, but more important are the changes for companies. These are primarily name changes, whether for good or bad is a matter of personal opinion. Already in the past, customers have often mixed up the names.
New features of Office 365 and Microsoft 365 for Companies
With a few exceptions, the name "Office 365" will disappear. The products will be renamed to Microsoft 365. This will take place on April 21, 2020, the scheme being: product family – target group – SKU distinguisher.
The whole thing looks like this in theory, but Microsoft wouldn't be Microsoft if you didn't differ in some places right at the beginning. More about this later in the translation table:
But not everything is renamed. The Office 365 F (Firstline Workers), E (Enterprise), A (Education) and G (Government) plans remain unaffected by the changes. Prices and functions will not change for the time being.
The announcement can be found in the Microsoft 365 Blog.
Translation table: old Office 365 name and the new name
| | |
| --- | --- |
| Old Name | New Name |
| | |
| | |
| | |
| | |
| Office 365 A1 | Office 365 A1 |
| Office 365 A3 | Office 365 A3 |
| Office 365 A5 | Office 365 A5 |
| Office 365 G1 | Office 365 G1 |
| Office 365 G3 | Office 365 G3 |
| Office 365 G5 | Office 365 G5 |
| | |
| | |
| | |
| | |
| | |
| | |
| | |
Translation table names from Office 365 to Microsoft 365
Effects of modifications to the names of the Office Desktop applications
Even though "Office 365 Business" and "Office 365 ProPlus" will also be renamed, nothing will change for the time being when Office is distributed. The product IDs within the Office Deployment Tool remain the same. However, the name of the application and updates will change from June 9, 2020. An example for an update could be "Microsoft 365 Apps Update – Semi-annual Channel Version 1908 for x64 based Edition (Build 11929.50000)" instead of "Office 365 Client Update – Semi-annual Channel Version 1908 for x64 based Edition (Build 11929.20648)". Unfortunately, Microsoft does not exclude the possibility that registry keys could be renamed in the near future. Those who work directly in the registry instead of using group policy templates (ADMX files), for example, will have to keep an eye on this in the future. You can find more information on this in the corresponding article on Docs.Microsoft.com.
News about Office 365 and Microsoft 365 for private customers
As can be seen in the table, the name has also been adjusted here, even though the target group "for Consumer" has been shortened directly from the name. Microsoft also advertises with more functions than before, but I could not find anything great in the technical documents so far.
As before, this is a subscription which includes not only the office for the desktop, but also server services such as Outlook and OneDrive. These with a significantly different range of functions than the free versions. Thus, it is more than an alternative to the cheap "Office365ProPlus" or "Office 2019" offered online, which mostly come from volume licenses. Personally, I am not a friend of this multi-marketing, but everyone has to decide for himself.
Here is the planned scope of functions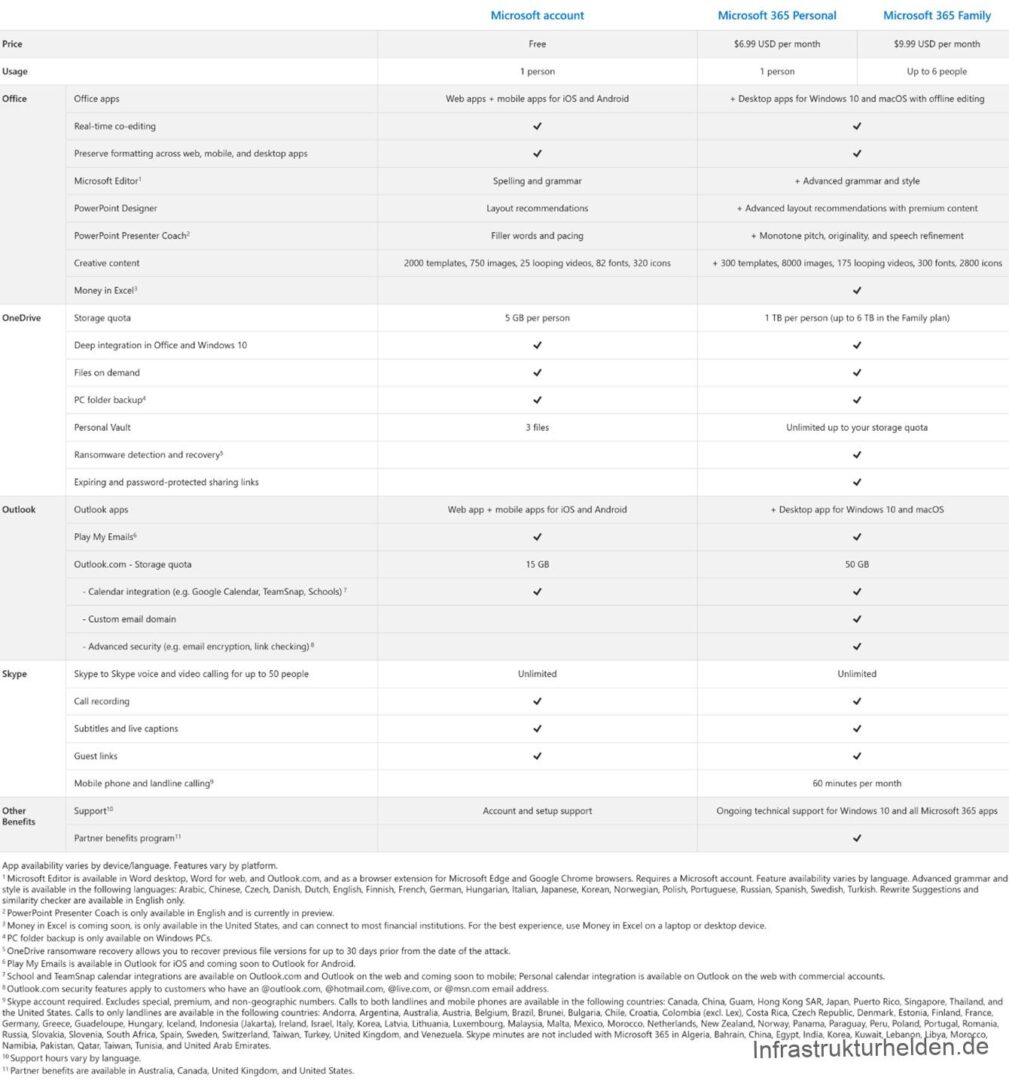 You can find the announcement on the Microsoft 365 Blog.